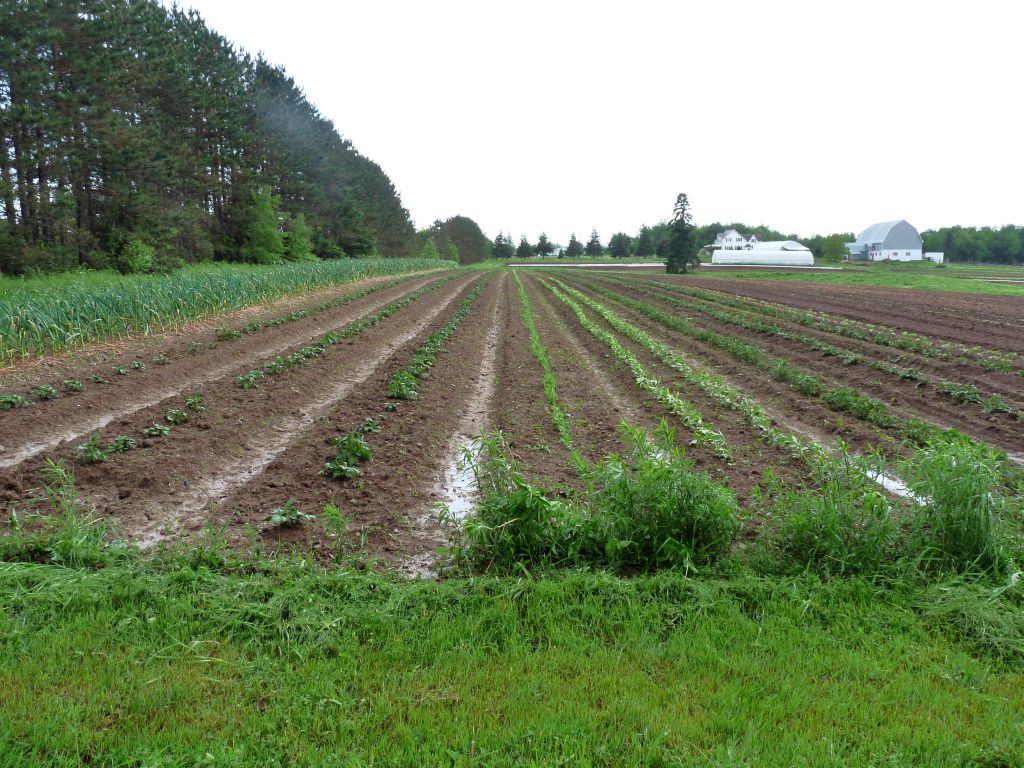 Thank you for visiting my web site. Windy Hill Organic Farm is owned by Alyson Chisholm. I produce organic fruits and vegetables and keep a small herd of dairy goats on my 45 acre farm in McKees Mills, New Brunswick. I offer a CSA box program starting in June and sell my certified organic produce seasonally at the Dieppe Farmers Market on Saturdays as part of the co-op, Coin Bio/Organic Corner. Though I am the sole owner of this farm I by no means operate on my own. My team of amazing farm workers, as well as volunteers, friends, neighbours and other supporters (including CSA members of course!) enable me to run this farm in a sustainable manner and produce vegetables to feed hundreds of families. To my co-producers, I am very grateful and hope we continue doing this for a long time to come!
2019 was another great season and we were very happy to get more rain and a more regular rainfall than we'd seen in years. However, after three very dry years I'd managed to forget about a soil drainage issue in Field 3 and we ended up losing a few carrots and sweet potatoes in wet parts of the field. Speaking of sweet potatoes, one of the successful projects of 2019 was on-farm propagation of sweet potato slips. Thanks to some intel from a local gardener and long-time sweet potato grower, I was able to set up a space in my bathroom to grow and collect slips from about 20 lbs of sweet potatoes. Over the months of April and May I managed to collect almost 700 slips, much more than I had ever thought possible. Of course this success must be repeated this year as well!
The really big project of 2019 was the creation of our first ever on-farm Local Food Hub! This was a Coin Bio/Organic Corner Co-op project so the funding came from the Co-op's cash reserves, however the work to create it was all Windy Hill. The first part of the project involved creating space in our harvest shed for a modest farm store. Fortunately I had Kelsey, the master organizer, to take on this task. She whipped the workshop, packing area and all tool storage sites into shape, creating a much more functional work space as well as a farm store in the process. We officially opened on our June Open Farm Day though discovered the best time to really get started was once the CSA pickups began. From late June the store continued until early October, selling vegetables, meat, eggs, honey and kombucha 10 hours a day, 7 days a week. We will definitely do this again this season and hopefully will be even better organized, better stocked and even better able to meet local food needs in 2020!
I'm happy to announce that Marc will join us for another season as will Carla, better than ever after last year's knee surgery. We are welcoming two new people this season: Emma and Max will also join us on the farm team, helping with field work, livestock care and other projects.
2020 promises many great things and I look forward to continuing to supply my CSA members with delicious, healthy vegetables. Our CSA is full for this year but if you'd still like to register I'll put your name on a waiting list and contact you if a space opens up.