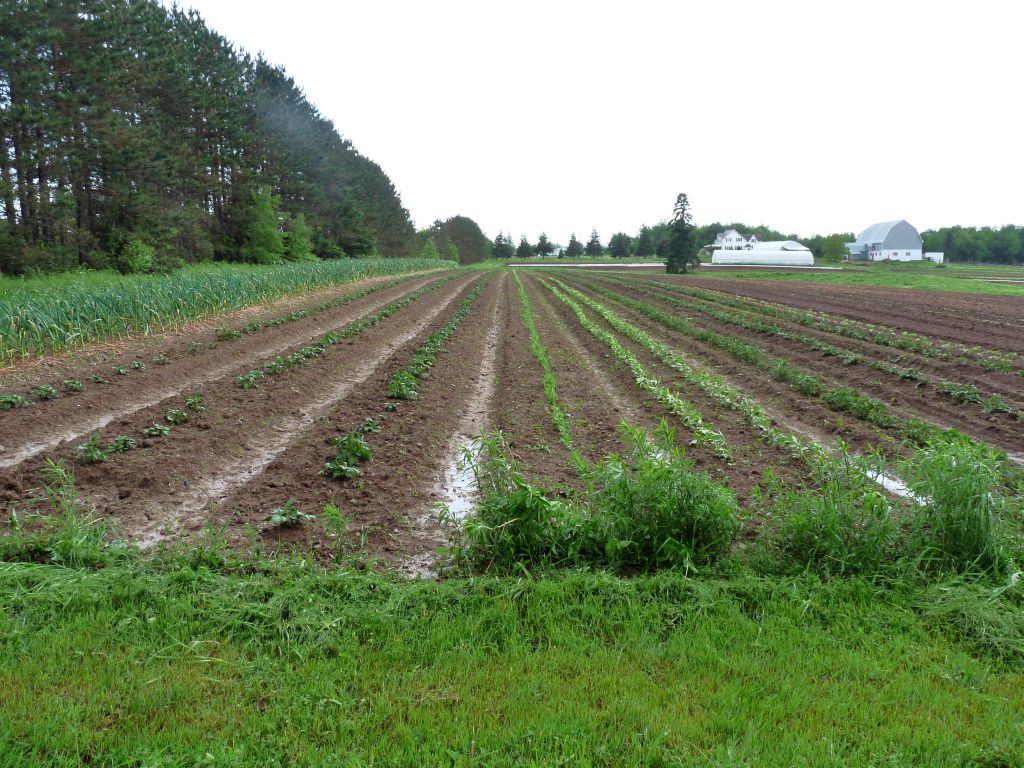 Thank you for visiting my web site. Windy Hill Organic Farm is owned by Alyson Chisholm. I produce organic fruits and vegetables and keep a small herd of dairy goats on my 45 acre farm in McKees Mills, New Brunswick. I offer a CSA box program starting in June and sell my certified organic produce seasonally at the Dieppe Farmers Market on Saturdays as part of the co-op, Coin Bio/Organic Corner. Though I am the sole owner of this farm I by no means operate on my own. My team of amazing farm workers, as well as volunteers, friends, neighbours and other supporters (including CSA members of course!) enable me to run this farm in a sustainable manner and produce vegetables to feed hundreds of families. To my co-producers, I am very grateful and hope we continue doing this for a long time to come!
We expected great things from 2021 and it seems it was just more of the same! We were very lucky to have not suffered greatly from COVID restrictions and I thank all my loyal CSA members and farmer's market/kiosque customers for your support. 2021 was the year of big yields on the farm thanks to timely rainfall and moderate temperatures. We had the largest garlic and potato harvests ever plus lots of pretty much everything else. This was great but high yields create lots more work than expected and my excellent crew was kept hopping!
We started selling eggs for the first time last year and offered an egg CSA on a trial basis. It seemed to work well so we'll do it again this year. We are also adding a few new crops and dropping a few old ones as well as trying some new growing methods. Every year we see new pests arrive at the farm and we have to figure out how to manage them. Last year the leek moth damaged a lot of our winter leeks and the squash beetle caused a premature end to the zucchini harvest. This year we get creative in managing these new pests as well as continue to try and control our old ones. This is a huge part of organic farming!
We'll be planting our first ever hay field this year, too,  to feed my little herd of goats. I'm having a hard time deciding on the mix of grasses and legumes to plant: drought tolerant or moisture tolerant species? Who knows what each season will bring!
Our biggest and most exciting plan for 2022 is the installation of solar photovoltaic panels on the farm to offset some of our power usage. I've been wanting to do this for years and it seems the time has come. The installation will be a grid-tied system so no batteries or energy storage at this time but maybe in the future. Hopefully we'll be able to show off the solar panels at Open Farm Day in June!
I'm happy to announce that Marc will join us for another season as will Carla who has been with Windy Hill since 2012! Melissa is a wonderful new addition to the farm this year and Max joins us for his third season though he can only stay till mid August (studies beckon). We will be looking for someone to join the farm team for August and September so please pass this on to anyone you think may be interested.
2022 promises many great things and I look forward once again to continue supplying my CSA members with delicious, healthy vegetables.