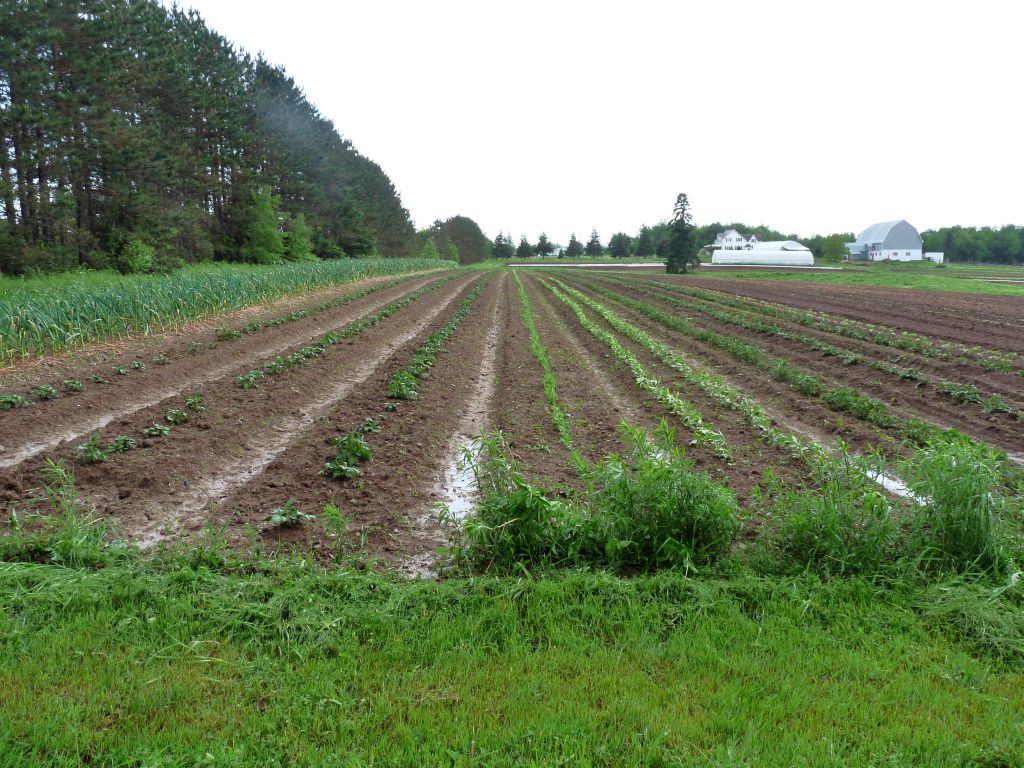 Thank you for visiting my web site. Windy Hill Organic Farm is owned by Alyson Chisholm. I produce organic fruits and vegetables and keep a small herd of dairy goats on my 45 acre farm in McKees Mills, New Brunswick. I offer a CSA box program starting in June and sell my certified organic produce seasonally at the Dieppe Farmers Market on Saturdays as part of the co-op, Coin Bio/Organic Corner. Though I am the sole owner of this farm I by no means operate on my own. My team of amazing farm workers, as well as volunteers, friends, neighbours and other supporters (including CSA members of course!) enable me to run this farm in a sustainable manner and produce vegetables to feed hundreds of families. To my co-producers, I am very grateful and hope we continue doing this for a long time to come!
2022 was another great season and we had some more amazing crop yields. We'll give the top prize to garlic which seriously surpassed every other year's  yield thanks to really large bulbs and very few losses. The year presented some challenges as well, offering up a few new insect pests – I guess we didn't have enough before – and a shortage of farm workers. We still got through the season okay thanks to my super farm team, all of whom will be joining us again in 2023!
Another 2022 challenge was a drastic jump in prices of many farm inputs. Our farm use of diesel isn't huge but pretty much everything we buy – row covers, seeds, potting mix – comes from away and the cost of getting these items to NB went through the roof. CSA prices stayed the same as 2021 but we did raise prices of some of our produce sold at the farmer's market. I'm looking at trying to keep our CSA price increases as low as possible this year, understanding that everyone's costs of living are rising.
Our 2022 projects went ahead as planned: the hay field was planted and we should have our first harvest this season. The solar panels are up and doing their job, which makes me even happier than usual to see the sun in winter! We were also lucky enough to get some government money to support the drilling of a new irrigation well on the farm. This will allow us to spend way less time irrigating and, with better water pressure, we'll be able to just irrigate during the times of day when plants are best able to use the water. This means with the new well we'll actually be able to conserve water better.
Plans for 2023 include improving our use of green manures as part of the farm soil fertility program. Last year's soil tests showed a rise in soil pH due to years of use of crab and lobster meal. This year we are cutting back drastically on this fertilizer and incorporating more green manures, like oats and peas, to add nutrients to the soil. Another plan for this season is to try and better mechanize the spreading of compost. The manure spreader was repaired and improved last year so this year I'm going to organize the fields so we can use it to spread compost and cut down on wheelbarrow labour!
I love everything about what I do however I also recognize that I'm not getting any younger and will, one day, want to hand this business over to some new farmers. If you are interested in making a living growing organic vegetables, or you know someone who is, please get in touch. The handover process will be multi-year and, though I still have lots of life left in me now, I realize that I need to start the process sooner rather than later!
I'm happy to announce that Marc will join us for another season as will Carla who has been with Windy Hill since 2012! Danielle was a wonderful new addition to the farm last year who will be back this year and Max joins us for his fourth season, part-time as he's also finishing is Masters thesis. We will be looking for one more full or part-time person to join the farm this year so please pass this on to anyone you think may be interested.
2023 promises many great things and I look forward once again to continue supplying my CSA members with delicious, healthy vegetables.