Community Shared Agriculture (CSA) is a system where customers pay in advance for the produce they receive through the growing season. Farmers spend a lot of money early in the growing season paying wages, buying seeds, compost, tractor diesel and other costs to get the growing started. By paying some of the cost of produce up front, you are helping the farmer avoid taking out a line of credit or a loan to cover start-up costs. As well, a guaranteed market enables a farmer to plan their season better and spend more time in the fields, growing food, rather than on the phone, marketing. All of these factors help make farming a more viable livelihood. If farmers can make a living farming, we will have more farmers and therefore, increased food security.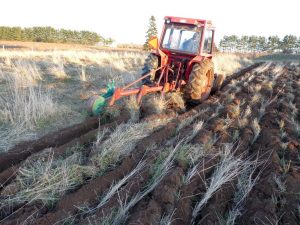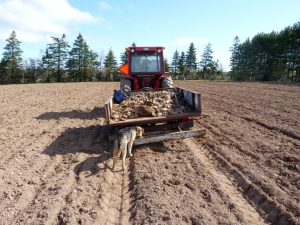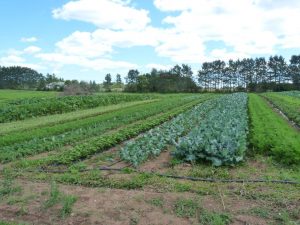 By joining a CSA, not only are you getting lots of great, fresh produce at a reasonable cost, you are also linking yourself to a farm and in these globally challenging times, we all need a farm in our lives! Through the CSA newsletter you can learn about farming and its many challenges, as well as get some great recipes and preparation hints for dealing with the bounty of fresh (and sometimes unusual!) produce that arrives each week. Open Farm Days are opportunities to get out and see the farm (when COVID allows!): meet the farmer team, learn more of what we do and enjoy some good food. CSA shareholders get first choice on high value produce of limited quantity (strawberries, garlic) as well as wholesale prices for bulk purchases of vegetables for processing. I always appreciate hearing from you so feel free to tell me what you think of the service, the produce and what you would like to see in the future. I won't always be able to comply with everyone's wishes but will do my best.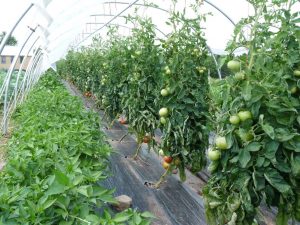 The CSA will run from late June until early November (a total of 20 weeks).  A full share costs $700 ($35.00/week) and is enough produce (10 – 11 items) for a family of four or two really dedicated vegetarians (who give a lot of dinner parties!). A half share costs $425 ($21.25/week) and is enough (5-6 items) for two average eaters. To get an idea of value, the CSA share usually works out to a savings of 15% over the cost of buying vegetables at the farmer's market.
You can start with a half share and switch to a full share mid-season if you find you need more produce and you can buy more than one full share if you are a really big family. Due to the nature of farming and our growing season, your box will be more tightly packed in mid summer and through the fall than in early summer. You will discover many amazing uses for leafy greens in the month of June!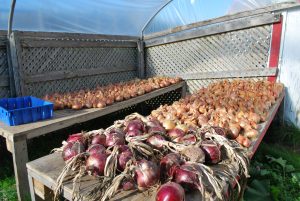 Boxes can be picked up on the farm or at a designated pickup point in Moncton, Dieppe, Riverview or Cocagne. Farm pickups give you a $15 reduction in the cost of your CSA.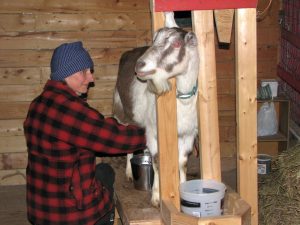 CSA Box Contents
What would you expect to find in your box? Here is a list of crops and the approximate timing of their appearance in your CSA box:
June/July
Lettuce, spinach, green garlic, radishes, green onions, mixed salad greens, celtuce, chard, kale, dandelion greens, salad turnips, shelling peas, snap peas, parsley, beet greens, potatoes, beets, carrots, garlic scapes, broccoli, green cabbage, green/yellow beans, red cabbage, cucumbers, zucchini, basil, dill, cilantro, fennel, turnips, strawberries, rhubarb
August
Carrots, beets, cucumbers, zucchini, tomatoes (red, yellow, orange, purple, beefsteak, cherry, salad), green peppers, eggplant, basil, hot peppers, Cipollini onions, green onions, lettuce, broccoli, gailan, green/yellow beans, dill, cilantro, potatoes, summer leeks, red cabbage, garlic, fennel, chard, kale, parsley, celery
September
Carrots, potatoes, beets, cucumbers, edamame, zucchini, tomatoes, green peppers, eggplant, coloured peppers, hot peppers, basil, cooking onions, leeks, broccoli, cauliflower, green/yellow beans, cilantro, garlic, winter squash, shallots, radicchio, kale, chard, spinach, dandelion greens, fennel, sweet potatoes, lettuce
October/November
Carrots, beets, tomatoes, hot peppers, coloured peppers, eggplant, onions, leeks, cauliflower, broccoli, cabbage, kale, chard, dandelion greens, rutabagas, garlic, winter squash, pumpkin, radicchio, spinach, Asian greens, shallots, parsley, parsnips, cilantro, romanesco, dried beans, sweet potatoes, sunchokes
Some Comments from CSA Members:
"The extensive variety and high uniform quality on every delivery was impressive and your newsletter is a valuable complement."
"My 14 yr old teenage son is eating like two bowls of salad per day!!! He says he never knew greens were this good."
"Getting weekly vegetable deliveries encourages us to eat more veggies and we feel better for it!"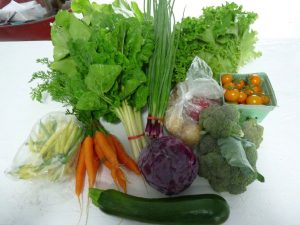 Thank you for your interest. The CSA is currently full for the 2023 season however if you are still interested, please register and we'll put you on the waiting list in case anything opens up.
We work on a first come, first served basis and if our CSA is full for the season, we will put you on a waiting list for next year. Also, if we find mid-season that we have extra produce, we may contact people on the waiting list and put together some extra boxes. Once you register, we will send you an agreement to sign and send in with your payment. To be fully registered for the season, we need to have received either the full or half the season's payment (second half to be paid when the first boxes are picked up).